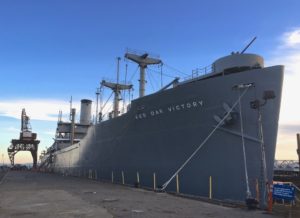 Come and see what a real Victory ship looks like — walk around the ship on your own or ask for a guided tour.  Learn about this incredible period of time in our nation's history.  The entire ship is open to the public four days a week (Tuesday, Thursday, Saturday and Sunday) from 10:00 am to 4:00 pm.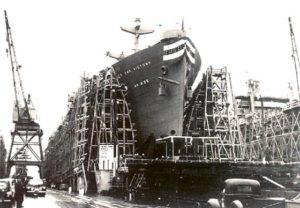 Did you know that the site of the largest shipbuilding complex in the world during World War II was located right here in Point Richmond, California?  Due to the urgent need for military and cargo vessels for the war effort, emergency shipyards had to be constructed, and one result was this enormous facility established in Richmond by the innovative industrialist Henry Kaiser. The end result was ships, ships, and even more ships!
Of the seven shipyards that Henry Kaiser built on the West Coast and of the 747 ships that were constructed there, only one remains today: A genuine 1944 ship, commissioned by the U.S. Navy as the "USS Red Oak Victory". You can visit her at the original Shipyard No. 3! There, the SS Red Oak Victory is once again bringing people together to invent a new future: Not to defeat an enemy, but this time as a metaphor for the American rejuvenation.
The SS Red Oak Victory, almost fully restored, is fast becoming an innovative venue with not just historical relevance, but also as a highly contemporary destination for the sharing of culture through music, dance, art, film, and history with events that once again are drawing people of all generations to Point Richmond as part of its waterfront revitalization.
The SS Red Oak Victory no longer fires its guns, but judging by our satisfied and interested visitors' faces, she is firing up their imagination.
Come to the SS Red Oak Victory. Arrive Curious. Leave in Awe.