After final outfitting, USS Red Oak Victory (AK-235) was commissioned on December 5, 1944  as a US Navy vessel.  Only a very few Victory ships became Navy commissioned vessels and they were designated as either AK (auxiliary cargo ships) or AT (attack transports).  The USS Red Oak Victory, as an AK, carried ammunition to supply the needs of the Pacific Fleet in World War II.
In January 1945, USS Red Oak Victory under command of Lieutenant Commander John S. Sayers, USNR, with a crew of 13 officers and 91 enlisted men sailed under the Golden Gate Bridge to war service in the Pacific Theater of Operations.  She would not return to the United States for 18 months.
The Red Oak Victory took on a cargo of ammunition for fleet issue at Pearl Harbor and from there sailed to Ulithi Atoll in the Caroline Islands of the Western Pacific.  Being located just 1300 miles South of Tokyo, Ulithi was the ideal forward supply base for the US Navy's final operations of the war.  Beginning in April, 1945 the USS Red Oak Victory issued ammunition for the invasion of Okinawa from this base.  In May she sailed to Leyte Gulf where she supported operations in the Philippines until the war ended in August of that year.
The USS Red Oak Victory made her final cruise as a Navy vessel back to the United States in May, 1946 where she was turned over to the US Maritime Commission and re-designated as SS Red Oak Victory.  Under Merchant Marine command she served for the next 21 years in the Caribbean, the Indian Ocean, and in Korean War service.  SS Red Oak Victory's final thirteen voyages were to Vietnam from 1965 through 1968 where she was one of 100 World War II Victory ships used by the Military Sealift Command to support operations in Southeast Asia.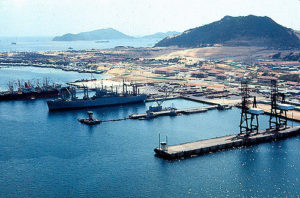 In January, 1970 SS Red Oak Victory was transferred to the Ready Reserve (or 'mothball'), Fleet in Suisun Bay (California), where she remained until moved as a museum ship to her present location in 1998.  After accumulating a proud record of service for nearly 25 years as both a military and civilian vessel, in war and in peace, today the SS Red Oak Victory entertains and educates visitors from all over the world.  She stands as a memorial to the workers and sailors who not only delivered the goods, but delivered the victory in the Second World War.